Hear / Buy Single Songs
Takes a moment to load—lots of audio

Join My Email List:
You're also invited to email me
with comments, arguments, CD
orders, suggestions, whatever...
I like hearin' from people.

(address: Michael@MichaelKoppy.com)
October 1, 2019:

ORDER A COPY TODAY! Words and Music Into the Future: A Songwriting Treatise and Manifesto is now available—the book having taken much longer to write than anticipated. On sale starting today, it's 306 pages, with four appendices, 31 illustrations, a zillion footnotes, and a complete index. This project (like so many things I take on) demanded a hell of a lot more attention, care—AND TIME—than anticipated. What began as a series of simple essays—an informal attempt to state a few inconvenient facts about the state of contemporary popular songs, along with some positive directions those working in the field might pursue—evolved into a full-on book. Ah, life....

Click HERE to get a copy now!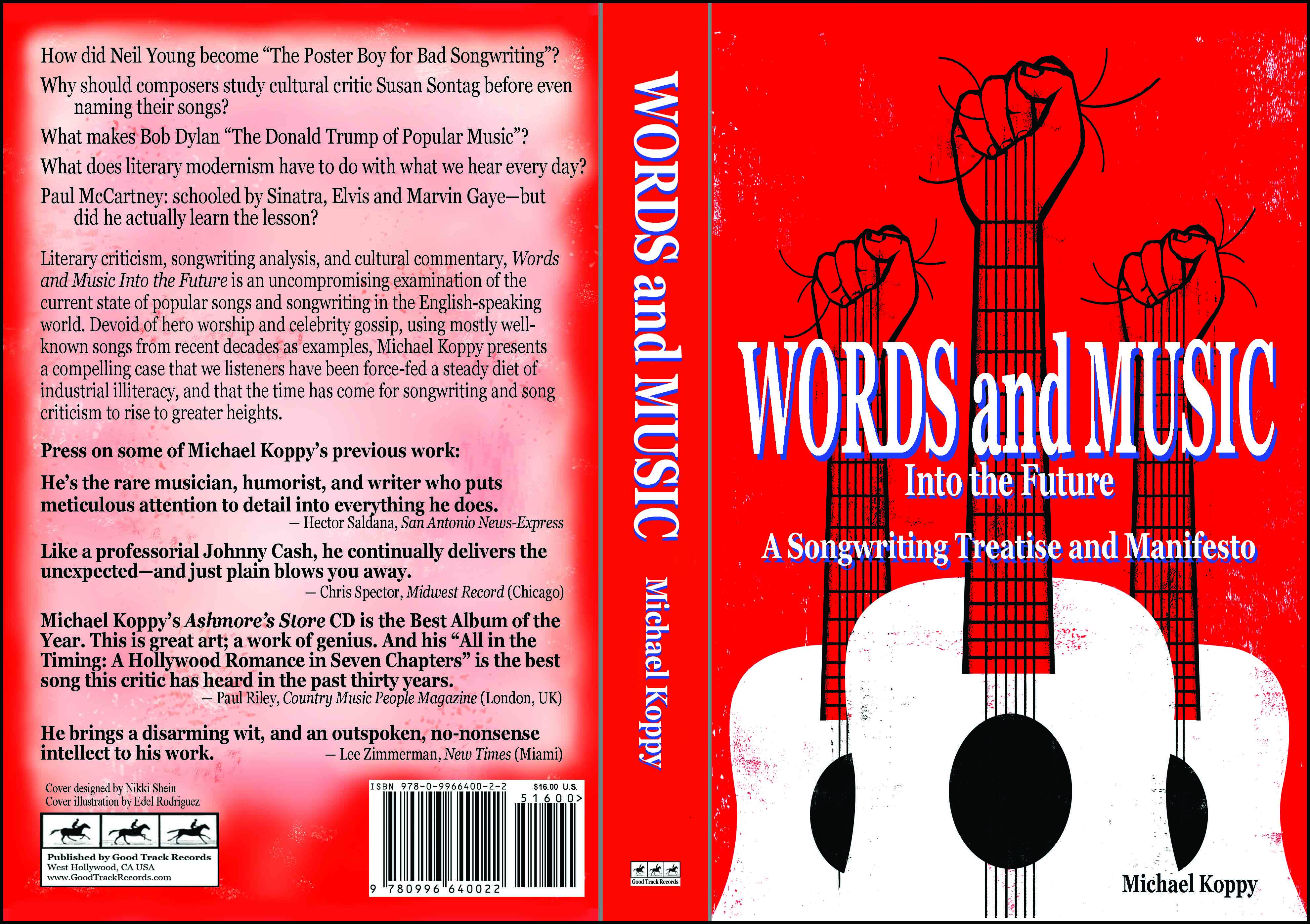 And thank you to all the folks who emailed in, offering advice, corrections, suggestions, countervailing views. This effort really was something of a 'Community Project'—not crowd-funded, but very much crowd-sourced.
Whether you agree with propositions put forth in the book or not, it will surely make many folks reconsider some, or even many, cultural notions that are pretty much accepted as unassailable truths. I'm breaking dozens of eggs for this omelette, an' barbecuin' whole herds of sacred cows. If you wish to share your reactions, suggestions, flaming denunciations, questions and/or contesting opinions please do so. Email me your thoughts.
- - -
During my 2016 Tour of Dixie (click Tour Dates, left, for the map) I was in beautiful Charleston South Carolina on Election Night—the night that America's broke and baroque electoral system put a Repulsive, Nasty Piece of Diseased Human Garbage in the White House. It's hard to maintain optimism in the face of that Odious and Vulgar Moron and his Army of Goosestepping Cockroaches (aka the Republican-Nazi Party—and I invite you to join me in always using that full and accurate name for that disgusting criminal mob). I'm profoundly ashamed to be an American in the year 2018. While I'm not a big supporter of Barack Obama, even just the simple exchange of his undeniable inspirational vision and moral intelligence for the swaggering stupidity of that Putrid Sack of Used Toilet Paper ("Mr Grab 'Em by the Pussy") is disheartening enough. Yet were he to die tomorrow—while I'd immediately pop open a bottle of champagne to celebrate—that the Republican-Nazi Party would remain in complete control of all three branches of American government—with a certifiable ACTUAL Nazi, Mike Pence, then in charge—is a truly sad, sad measure of the degree selfishness, racism, religious stupidity, hatred of women, intellectual poverty, and moral cowardice so pervades my country. Yes, I am ashamed to be an American. And I apologize to my friends around the world for our national disgrace.
But in the end, folks—after this national maelstrom of despondency and hopelessness dissipates; as the Republican-Nazi Party and its Rancid Lowlife Darling cause more and more revulsion and failure—right thinking Americans will prevail. In the end, stupidity and cowardice always, always loses. The world will move forward, and we shall overcome.

Best wishes to all and thank you once again. — Michael
_________________________________________________________________________________________________________
_________________________________________________________________________________________________________
To order copies, and for more information, click here: www.FrankLindamood.com
_________________________________________________________________________________________________________